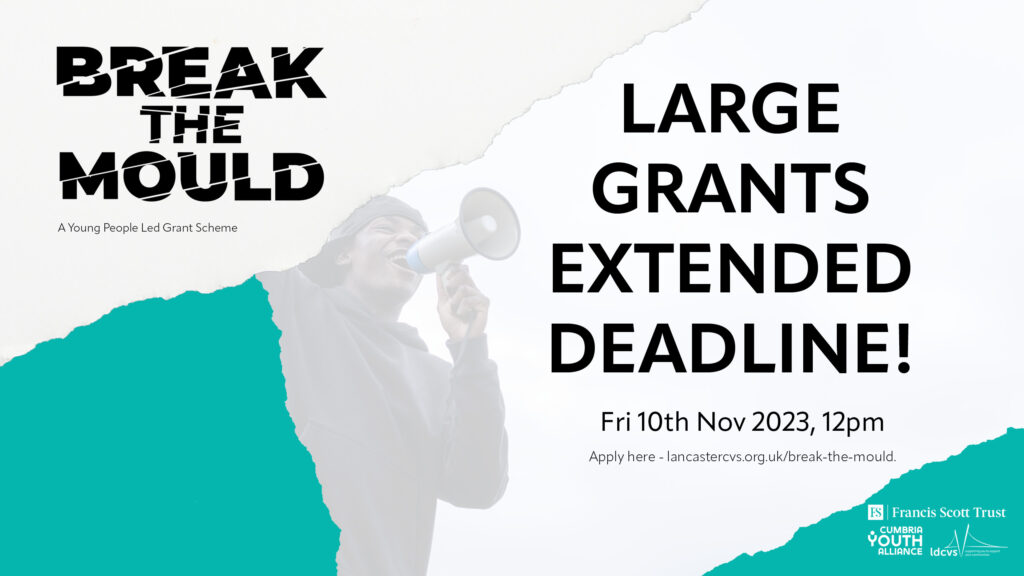 In 2023, the Francis C Scott Charitable Trust are celebrating 60 years of supporting work with young people that has been delivered by a range of exceptional local, regional, and national organisations.
To mark this milestone year, the Trust are asking local young people to distribute funds on its behalf.
In celebrating Francis Scott Trust's 60th birthday, this group of young people will be distributing £60,000 to the local community, supported by Cumbria Youth Alliance and Lancaster District CVS.  In May, 20 young people from across the Trust's beneficiary area (Lancaster and Cumbria) were invited to lead the way in designing and delivering a grants programme aimed at giving out £60,000 between September to December 2023.
On the 16th 17th, and 18th of June, 13 of the young people gave some of their time to attend an exciting weekend residential with Think Forward CIC. Enjoy this short video showing their residential highlights…
With the scheme now officially launched, between now and December the team will meet monthly and take part in regular working group meetings. They will use their expertise to make important decisions about where the funds should be spent and help with tasks and activities, ensuring the project is a success.
The young people involved in this project will have access to high quality training, enhance their skills, and be supported to develop their own ideas and set personal or professional goals. They will also get £100 towards something that they need e.g., training, passport, or a new suit.
Applying for the Grant
Break the Mould projects must benefit young people in Cumbria, the Lancaster district, or both areas. The location or registered address of the organisation does not affect eligibility.
The grant has been divided into two strands. The key Grant Themes are as follows:
Creating Safe spaces for young people (this includes activities, advice and support for general or minority groups)
Transitioning to adulthood for young people (key life skills)
Mental Health support for young people (post-pandemic)
Our Target Audience are young people aged 16-24 from Lancaster and Cumbria facing significant challenges such as: Struggling to fit in or find a place where they can develop shared interests with others. Worried about learning the skills needed to transition to adulthood. Finding it difficult to control their mood, have little aspirations and cannot see a future.
You can apply to the mini strand for grants of up to £500. These will be considered as submitted, with decisions advised around two weeks after we receive applications. Applications will not be accepted after Wednesday 31 January 2024 at 12:00pm (and money may run out before this deadline due to the grant-making process)
You can also apply to the large strand for grants of between £500 and £10,000. The deadline for application is Friday 10 November 2023 at 12 noon.
To apply for funding you will need to create an account via our online grant platform (click on the application button below). Our application guidance notes can also be downloaded below. Please also view our funding opportunities page for further information.